Multiple drones found near Moscow – media
A large unmanned aircraft crashed near the Russian capital on Monday, reportedly not far from one of three other UAVs that have been found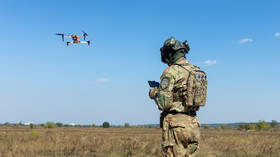 Three reconnaissance drones have been found in Moscow Region, including one near the crash site of a purported kamikaze UAV discovered on Monday, TASS has reported, citing a source in Russian law enforcement.
All three aircraft were small quadcopters with no identifying markings, the source said on Tuesday. Russian authorities are analyzing the UAVs to learn more about their origins and operators.
Earlier this week, a kamikaze drone crashed in the Bogorodsky district some 30km from Moscow's eastern outskirts, according to Russian media reports. Some outlets identified the UAV as a Ukrainian-designed fixed-wing aircraft, and said it had been carrying around 17kg of C4 explosives.
One of the three newly discovered drones was found about 4km from the crash site, according to the TASS source. The SHOT news outlet claimed the device was actually discovered around 2km from the scene, but did not have a memory card. A local woman found the craft and hung it on a pole for police to collect, SHOT reported, sharing photos of the object.
A previous TASS report stated that a quadcopter was also found on Sunday next to an oil refinery in Kapotnya, a district in southeastern Moscow renowned for its petrol industry. The drone was identified as a Mavic-820677 and contained a memory card, the agency said, citing a police source.
Several Russian outlets also reported that a fixed-wing drone was found on Monday in a rural part of the Pavlovo Posad district of Moscow Region, 55km east of the capital. It was reportedly a reconnaissance drone of Russian design, which landed intact using a parachute system.
You can share this story on social media: