US holding 'more than 100' Russian citizens in jail – ambassador
Most of the charges are politically motivated, Anatoly Antonov has said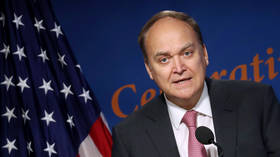 More than a hundred Russian nationals are currently in American prisons or jails, Russian Ambassador to the US Anatoly Antonov has revealed. The comments came after he visited two Russians jailed in New York on Wednesday, as part of his diplomatic duties.
"We will definitely continue the practice of visiting our compatriots who ended up in American dungeons," Antonov told reporters. "According to some reports, we actually have more than 100 people."
Antonov had traveled from Washington, DC to Brooklyn, New York to visit two Russian citizens, Anatoly Legkodymov and Dmitry Ukrainsky. He told reporters that most of the charges Russian citizens face in the US are politically motivated.
"I have heard more than once that if you are Russian, this means that you should receive a longer sentence than if you were, for example, Italian, French or British," Antonov said.
Legkodymov was charged in January with disobeying US banking laws while operating cryptocurrency exchange Bitzlato from Hong Kong. He was a resident of China, but had allegedly lived in Miami, Florida for a while – which the US considered enough to claim jurisdiction.
According to federal prosecutors, Legkodymov "knowingly allowed Bitzlato to become a perceived safe haven for funds used for and resulting from a variety of criminal activities," and "failed to meet US regulatory safeguards, including anti-money laundering requirements." If convicted, he faces up to five years behind bars.
Ukrainsky was accused of money laundering in Thailand. He pleaded not guilty but was sentenced to ten years in 2019. He is expected to be released on parole, but Thai authorities extradited him to the US in June 2022 instead. Though Ukrainsky insists he had never even been to the US, American authorities claim he stole over $300,000 from the accounts of US citizens.
Earlier this week, Russian Foreign Minister Sergey Lavrov said there were "more than 60" Russian citizens currently in US prisons, many on "dubious" charges, and several who had been "abducted" by US authorities from third countries. He brought up the case of Maria Butina, a Russian gun rights activist who was imprisoned in the US on trumped-up charges.
Butina was arrested at the height of 'Russiagate' hysteria and charged with conspiring to act as an unregistered foreign agent. She spent over 18 months in jail and then in federal prison, before she was deported to Russia in October 2019.
You can share this story on social media: