US mulling 'creative solutions' to free journalist – WSJ
Washington might consider a swap deal involving Russian nationals arrested in third countries, the Wall Street Journal claims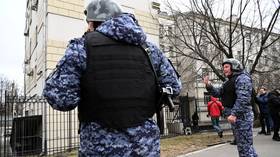 The US is ready to take an unorthodox approach to seeking the release of Wall Street Journal (WSJ) journalist Evan Gershkovich, presently jailed in Russia on espionage charges, as it struggles to find suitable candidates for a prisoner swap, the paper reported on Saturday.
Washington currently has no Russian "spies" in its custody, the WSJ explained, and given the espionage charges Gershkovich faces, Moscow may consider a swap with any other prisoners to be unevenly matched.
A senior White House official told the WSJ that Washington was "open to creative solutions" to secure the handover of Gershkovich, along with Paul Whelan, a former US marine convicted of espionage in Russia in 2020.
"Within that which is legally available, we are constantly looking to see what might be relevant or what might be useful," the official said. According to the WSJ, Moscow previously told Washington it would only exchange Whelan for a Russian person accused of a similar offense abroad. Russia had reportedly previously offered to exchange him for Vadim Krasikov, a man sentenced to life in prison in Germany for murder. At the time, Washington considered a deal involving a third country impossible, but has allegedly shifted its position.
The WSJ singled out two alleged Russian spies arrested in Slovenia in December, along with Sergey Cherkasov, a Russian man sentenced to 15 years in prison in Brazil for identity fraud, as potential exchange candidates. Cherkasov was also accused by the Brazilian authorities of being a Russian agent, and Moscow has requested that Brazil extradite him to Russia. The US has allegedly also indicated it could seek his extradition, the WSJ claimed.
The paper also named Marat Kasem, a Russian media editor accused of espionage and dodging sanctions in Latvia, as a potential "match" for a successful swap deal. The WSJ did not elaborate on how the US could potentially secure an agreement involving any of these nations, however. It only said there were "no signs" that it would be an easy thing to do.
The most high-profile Russians behind bars in the US were all accused of cybercrimes, the WSJ said.
One of them is Roman Seleznev, a Russian lawmaker's son convicted in 2016 of hacking hundreds of businesses and selling stolen data online in a scheme that resulted in more than $169 million in fraud losses. He is due for release in 2036. According to his lawyer, Igor Litvak, Moscow considers Seleznev to be wrongfully detained, and would want to get him back "really bad."
Other options include Vladislav Klyushin and Aleksandr Vinnik. Klyushin is a Russian extradited to the US from Switzerland in 2021 and accused of obtaining $90 million through securities trades based on information stolen from US computer networks. Vinnik was detained in 2017, first in Greece and then in France, before being extradited to the US on charges of running an illicit cryptocurrency exchange.
You can share this story on social media: