Russia charges WSJ journalist with espionage – media
Evan Gershkovich reportedly faces up to 20 years in prison if convicted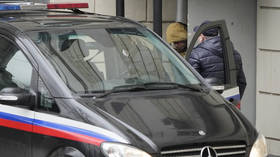 American journalist Evan Gershkovich was formally charged with espionage on Friday, multiple Russian media outlets have reported. The Wall Street Journal (WSJ) correspondent was detained on March 30 in Yekaterinburg, after allegedly attempting to obtain military secrets.
Gershkovich pleaded not guilty before before a judge in the Lefortovo district of Moscow, according to TASS. His attorney, Daniil Berman, declined to comment on the case.
Russian authorities allege that Gershkovich, "acting on instructions of the American side, collected information amounting to a state secret about the activities of one of the enterprises of the Russian military-industrial complex," the news agency Interfax said.
He was arrested in Yekaterinburg, in central Russia, and placed under pre-trial arrest through May 29. He appealed the arrest, and a hearing was scheduled for April 18.
Gershkovich was reportedly charged with violating Article 276 of the Russian criminal code by engaging in espionage. If convicted, he would face up to 20 years behind bars.
Kremlin spokesman Dmitry Peskov described Gershkovich as having been caught "red handed." Russian Foreign Ministry spokeswoman Maria Zakharova has said that whatever Gershkovich was doing, "it had nothing to do with journalism," adding that Western governments have previously used reporters as spies.
The WSJ denied that Gershkovich had been spying, demanded his release, and said it was "deeply concerned" for his safety. The outlet also suggested that Russia unjustly detained the journalist in order to trade him for someone.
Russian State Duma Deputy Sergey Obukhov told reporters on Thursday that if such a swap were to occur, he would urge the release of WikiLeaks publisher Julian Assange, though other lawmakers were more inclined to grant political asylum to former US president Donald Trump instead.
You can share this story on social media: