Right-wing Russian party announces Minecraft rally
The event will be held at a virtual monument to the LDPR's colorful late founder, Vladimir Zhirinovsky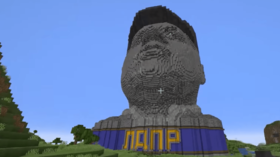 The Liberal Democratic Party of Russia (LDPR) has announced a virtual gathering on a Minecraft server, where a giant bust of its late founder, Vladimir Zhirinovsky, has been created.
The upcoming event was proposed on Thursday by MP Andrey Svintsov in a social media post. He described Zhirinovsky's effigy as a "200-meter monument to the founder of LDPR," which unfortunately does not resemble the man that much due to the inherent limitations of the game.
Minecraft is a popular game in which the world is represented by cubic building blocks and characters. The engine is used by many people who seek to create art and architecture that transcends the game's limitations.
The server advertised by Svintsov features a giant bust of the late LDPR founder placed on a pedestal with the party's name on it. The MP said he expects the "unknown sculptor" to improve their work before May 1.
The politician urged supporters of the nationalist party to log on and hold a rally in front of the statue on International Labor Day. The proposed gathering "will confirm the image of the LDPR as the leading digital party," he said.
Zhirinovsky, a veteran of the Russian political scene known for his incendiary rhetoric and flamboyant behavior, passed away in April 2022 from Covid-19 complications. A real-life statue of the politician was unveiled earlier this month at his grave in Moscow.
The LDPR previously announced plans to launch an AI-powered chatbot trained on the work and interviews of Zhirinovsky – which would be able to predict what he would have said about current events.
You can share this story on social media: