Fighter jet crashes in northern Russia (VIDEO)
Both pilots ejected to safety, the Russian Defense Ministry has said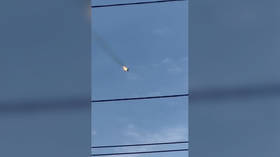 A Russian MiG-31 fighter jet has crashed during a training flight, the Russian Defense Ministry said on Wednesday. The jet fell in a deserted area, the ministry's statement said, adding that the incident resulted in no casualties. Videos on social media showed flames coming out of the jet as the aircraft was still flying.
One of the jet's engines caught fire during flight, a source with the Russian security services told TASS, saying that the aircraft "crashed into a lake, according to the preliminary information."
The incident took place some 10 kilometers away from the town of Monchegorsk and around 150 kilometers away from the regional capital of Murmansk.
Both pilots were evacuated via helicopter by the search-and-rescue service, RIA reported, citing the Defense Ministry. They are now safe and sound, the outlet said. Social media videos show people on the ground saying the pilots tried to divert the aircraft away from a residential area.
A similar incident took place in Russia's Belgorod region bordering Ukraine in late February. At that time, a Su-25 close air support aircraft crashed due to a technical malfunction. The jet's pilot was killed. That aircraft also went down in an unpopulated area, leading to no infrastructure damage or casualties on the ground.
You can share this story on social media: