Moscow reacts to Xi-Zelensky call 
Ukraine has so far rejected every reasonable peace proposal, the Russian Foreign Ministry has said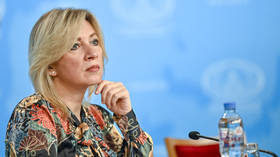 Ukraine's "unrealistic" demands are standing in the way of peace negotiations, Russian Foreign Ministry spokeswoman Maria Zakharova has stated. The comments came in response to a question about the phone call between Ukrainian President Vladimir Zelensky and Chinese President Xi Jinping.
The leaders spoke on Wednesday for the first time since Russia launched its military operation in the neighboring state in February 2022.
Zakharova praised Beijing for its efforts to help restart meaningful negotiations. She said Russian and Chinese visions for a path to peace were "broadly in tune" with one another. "The problem lies not with the lack of good plans," Zakharova said.
The Kiev regime has so far not been receptive to any reasonable initiative aimed at a political and diplomatic settlement of the Ukrainian crisis. Its occasional agreement to hold negotiations is being tied to ultimatums with obviously unrealistic demands.
The spokeswoman blamed Kiev for the eventual breakdown of negotiations last spring when Russian and Ukrainian teams held several rounds of meetings. Kiev, meanwhile, has repeatedly said that negotiations can resume only after Russia surrenders its recently incorporated territories. Moscow has called such demands unacceptable.
Crimea voted to leave Ukraine and join Russia in the wake of the 2014 coup in Kiev. The Donetsk and Lugansk People's Republics, as well as the Kherson and Zaporozhye regions, did the same after holding referendums on the matter in September.
In October, Zelensky signed a decree that declared the "impossibility" of conducting negotiations with Russian President Vladimir Putin.
Beijing, which unveiled a 12-point roadmap for peace in Ukraine in February, has maintained that the conflict can only end through dialogue. China, unlike many Western countries, has also refused to condemn Russia for its actions.
China named diplomat Li Hui its special envoy to Ukraine and "other countries" on Wednesday. Xi said that the envoy would be tasked with conducting "in-depth communication with all parties on the political settlement of the Ukraine crisis." Li was China's ambassador to Moscow from 2009 to 2019.
Zelensky, meanwhile, has appointed former strategic industries minister Pavel Ryabkin as the country's new ambassador to China.
You can share this story on social media: