Xi speaks to Zelensky by phone
The call will provide a "powerful" boost to bilateral ties, the Ukrainian leader said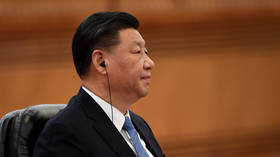 Chinese President Xi Jinping and his Ukrainian counterpart, Vladimir Zelensky, have spoken over the phone, in their first official conversation since Moscow launched its military operation in the neighboring state more than a year ago.
Xi told Zelensky that "dialogue and negotiations are the only viable way out."
"China will neither watch the fire from the other side, nor add fuel to the fire, let alone take advantage of the opportunity to make profits," Xi said, as quoted by the Global Times. The Chinese president urged all sides to remain "calm and restrained" when dealing with the possibility of the conflict spiraling into a larger confrontation. "No one wins a nuclear war," he said.
Zelensky tweeted that the dialogue was "long and meaningful." He said the call, along with the appointment of an ambassador to China, will "give a powerful impetus to the development of our bilateral relations."
Xi promised to dispatch "a special envoy" to Ukraine and other countries to "conduct in-depth communication" regarding a resolution of the conflict.
In February, Beijing unveiled a 12-point roadmap for peace between Moscow and Kiev, expressing willingness to take part in mediating an end to the hostilities. China, unlike many Western nations, has refused to condemn Russia, its strategic partner, and to impose sanctions on Moscow.
Xi traveled to Moscow last month, where he met with Russian President Vladimir Putin. The leaders vowed to work to increase trade and other areas of cooperation. Xi said that the ties between the two countries have "acquired critical importance for the global landscape and the future of humanity," according to the Chinese Foreign Ministry.
French President Emmanuel Macron paid a visit to China this month, where he urged Xi to "reason" with Moscow. The Chinese government criticized Russia for attacking Ukraine but also agreed with Moscow that NATO's expansion near Russia's western border was one of the core causes of the conflict.
You can share this story on social media: