WSJ journalist to remain in custody – Moscow court
The judge has refused an appeal against the detention of Evan Gershkovich, who stands accused of espionage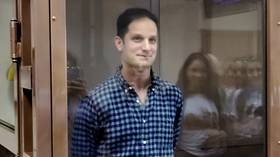 Wall Street Journal reporter Evan Gershkovich will remain under arrest, the Moscow City Court ruled on Tuesday, rejecting an appeal for his release by his legal team. The US citizen is currently being held in the Lefortovo pre-trial detention center in Moscow.
The ruling comes as Gershkovich stands accused of espionage after the Russian security services said he was caught red-handed while attempting to obtain "information amounting to a state secret about the activities of one of the enterprises of the Russian military-industrial complex."
The 31-year-old was detained in the city of Ekaterinburg on March 30 and later placed under arrest in Lefortovo for two months, pending trial. If convicted, Gershkovich faces up to 20 years behind bars.
The journalist's lawyer, Maria Korchagina, said her client does not admit to the charges against him and pleaded with the court to release him and place him under house arrest on 50-million-ruble ($622,500) bail. Dow Jones & Company, the owner of the WSJ, has offered to cover the amount.
The court, however, rejected the appeal, stating that Gershkovich's detention is lawful.
US Ambassador to Russia Lynn Tracy said it is "hard for her to see how an innocent journalist is kept in such conditions." She noted that she was allowed to visit Gershkovich in the pre-trial detention center on Monday, and claimed that he is "healthy and holding on, despite the circumstances."
US Secretary of State Antony Blinken said last week that Gershkovich was "wrongfully detained," and authorized the State Department to negotiate his release and provide "all appropriate support" for the journalist.
Kremlin spokesman Dmitry Peskov reiterated that Gershkovich was caught by the security services red handed. Russian Foreign Ministry spokeswoman Maria Zakharova stated that whatever Gershkovich was doing "had nothing to do with journalism," adding that Western governments have used reporters as spies before.
The WSJ has since reported that the US is "open to creative solutions" to secure the man's release, including swapping him for imprisoned Russian hackers and illegal cryptocurrency traders, or even Sputnik Lithuania editor Marat Kasem, who is currently jailed in Latvia.
You can share this story on social media: