Kremlin reveals details of Putin's surprise visit to troops 
Spokesman Dmitry Peskov also explained why the country's top military officials had not accompanied the president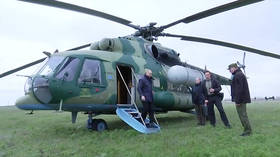 President Vladimir Putin's unannounced trip to command posts and Russian troops in Kherson Region and the Lugansk People's Republic took place on Monday, his spokesman has confirmed. Top military officials took part remotely in working meetings with the Russian leader, Dmitry Peskov added.
The Kremlin spokesperson provided new details about the visit, which was first reported on Tuesday morning, in response to multiple questions by journalists.
There was previously some confusion about the date of the inspection, as Putin mentioned Easter while presenting troops with an Orthodox icon. Orthodox Christians marked the holy day last Sunday, but Putin's remark that Easter was "ongoing" was a reference to a wider celebration that is traditionally observed for 40 days, Peskov explained.
The spokesman also discussed the absences of Defense Minister Sergey Shoigu and the chief of the General Staff, Valery Gerasimov, in the footage of Putin's visit. Both officials joined the president via video link as he chaired working meetings at the military headquarters, Peskov explained.
"It's hardly appropriate for the commander-in-chief, the minister of defense, and the chief of the General Staff to gather in one place and present such a temptation for the enemy. And, of course, this is a big risk," the Kremlin spokesman added.
Peskov declined to comment on whether Putin was satisfied with the state of the troops in the two regions, which joined Russia following referendums last year. Inspecting troops is "a routine job of the commander-in-chief," the presidential spokesman remarked, adding that reporting details about military affairs was the prerogative of the Defense Ministry.
However, Peskov did identify the icon which Putin had brought with him as a gift, explaining that the president had two copies from the original, 'Savior not made by hands' – one for soldiers in each region that he visited. The original icon was presented by Russian Emperor Alexander III to his war minister, Pyotr Vannovsky, and is due to be sent to the main cathedral of the Russian military, Peskov said.
Vannovsky was credited by Peskov for leading the ministry during the "active formation and development of our armed forces." The Kiev-born commander and statesman headed the Russian War Ministry between 1881 and 1898. He later served as public education minister for several months, after the previous incumbent of the office was assassinated by a revolutionary gunman.
You can share this story on social media: