Victory Day 'Immortal Regiment' march canceled in Russia
The annual processions dedicated to honoring World War II heroes were axed for "safety reasons"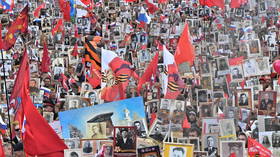 The annual 'Immortal Regiment' procession, during which Russians carry portraits of relatives who fought in World War II, will not be held during this year's Victory Day festivities amid the ongoing conflict with Ukraine, the organizers have said.
"For safety reasons, the Immortal Regiment (events) will be held in other formats this year," Elena Tsunayeva, the co-chair of the event's organizing committee, said on Tuesday.
First held in 2012, the march has become a fixture of May 9 celebrations, when Russians commemorate the Soviet Union's victory over Nazi Germany and its allies.
Last year, more than 1 million people participated in the march on Moscow's Red Square, while similar processions took place in other cities in Russia and abroad.
The organizers suggested alternative ways to honor war heroes on Victory Day, such as attaching their photos to the side mirrors and rear windows of cars, wearing T-shirts and badges with their photos, and posting them on social media.
Traditional Victory Day military parades were also canceled in Belgorod and Kursk Regions, which share a border with Ukraine, as well as in Crimea. These areas have been shelled and attacked by drones since Russia launched its military operation in Ukraine a year ago.
The main military parade on Red Square, meanwhile, will go as planned, the Kremlin said last week.
You can share this story on social media: