Zelensky army stunt upset UN chief – WaPo
Secretary General Antonio Guterres was "unpleasantly surprised" when President Zelensky had him pose with Ukrainian soldiers during a visit in March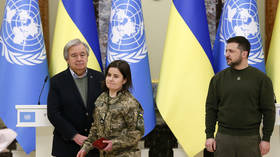 President Vladimir Zelensky ambushed UN Secretary-General Antonio Guterres with a surprise ceremony in Kiev during which the Ukrainian leader awarded medals to female soldiers, the Washington Post has reported, citing alleged US eavesdropping on the UN chief.
Guterres' reaction to the incident, which took place during his visit to the Ukrainian capital on March 8, was described in one of the slides purportedly leaked by a US National Guardsman who had access to classified US intelligence. The secretary general apparently discussed his experience privately with his spokesman Stephane Dujarric.
Zelensky "sprung the event" on Guterres, the newspaper said. The president's aides later spun it to imply that the UN chief was "congratulating military personnel on one side of the Russia-Ukraine war."
Guterres "emphasized that he made a point of not smiling the entire time," according to the US document purporting to describe the conversation.
Footage of the ceremony, which took place on International Women's Day, indeed shows Guterres maintaining an expressionless face as Zelensky awarded decorations to uniformed female troops. He offered a small nod and a brief smile to the ladies as he shook their hands while standing on the stage alongside the Ukrainian leader.
Dujarric confirmed to the Post that his boss was "unpleasantly surprised" by the event, to which he did not consent in advance.
Washington's apparent snooping on the UN leader fits a long record of clandestine activities by the US and other Western powers, the Post noted. Last week, a BBC report based on another slide from the same trove described the US' displeasure with efforts undertaken by Guterres to deliver on his promise to Russia to facilitate exports of its food and fertilizers.
The pledge was part of the so-called Black Sea Initiative, which allowed Ukrainian grain to be shipped out by sea. The UN chief's attempts to deliver on the promise were "undermining broader efforts to hold Moscow accountable for its actions in Ukraine," the slide said.
Dujarric commented on the BBC report, stating that Guterres was "not surprised by the fact that people are spying on him and listening in on his private conversations."
"What is surprising is the malfeasance or incompetence that allows for such private conversations to be distorted and become public," he added.
You can share this story on social media: