Ukraine may see new 'Maidan' – Politico
President Zelensky's approval rating will plummet once again after the conflict with Russia ends, a senior source predicts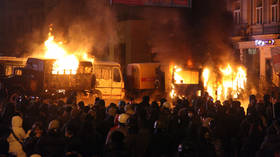 The Ukrainian authorities could be challenged by new protests and serious political upheaval similar to the 2014 revolt in Kiev after the conflict with Russia ends, Politico magazine reported on Tuesday, citing a former Ukrainian cabinet minister.
In 2014, then-Ukrainian President Viktor Yanukovich was ousted amid the 'Euromaidan' protests in Kiev and fierce clashes between armed protesters and riot police.
"You know, Maidan could happen again," the official who asked not to be named said, adding that the "war has triggered great hopes, and people will be very impatient for change."
"They will want money and justice and the completion of the reform they demanded back in 2014, and they will want them quickly," the official stated.
Politico said opposition politicians and civil society leaders interviewed by the magazine warned that President Vladimir Zelensky would face accusations that he used the conflict to consolidate power and bypass parliament. "We need to support the government, and we need to remain united," Nikolay Knyazhitsky, an MP from the European Solidarity party, told the publication. "But I worry about the future of democracy in my country."
A former comedian, actor, and TV producer with no prior experience in politics, Zelensky was elected president in 2019. According to Politico, his soaring wartime approval rating of 84% is expected to "plunge once the existential threat has gone."
The president's popularity dropped to around 20% before the start of Russia's military operation, according to Ukrainian pollster Rating Group.
Experts linked the dip in the polls at the time to Zelensky's overall inexperience and the failure to deliver on his promises of reforms.
Although many Western countries have hailed Zelensky as a "hero" and pledged to support Kiev for "as long as it takes," some, including US House Speaker Kevin McCarthy and Florida Governor Ron DeSantis, slammed the White House for what they have called the "blank-check" funding of Ukraine.
German newspaper Bild reported last month that Zelensky was at odds with General Valery Zaluzhny, Ukraine's top commander, over combat tactics in Donbass. Kiev denied that there was a conflict between the president and the general.
In January, Zelensky fired several senior officials, including four deputy ministers and five regional governors, after the authorities were accused of corruption and mismanagement. Kirill Timoshenko, Zelensky's deputy chief of staff, also resigned in the wake of the scandal.
You can share this story on social media: