Leaked US intel suggests Russia likely to capture key Donbass city – Newsweek
The loss of Artyomovsk/Bakhmut would be a 'psychological blow' for Kiev, the documents claim, according to the outlet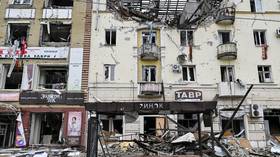 Newsweek claims to have obtained over four dozen leaked US intelligence documents that suggest Washington is "meticulously following" the fighting around Artyomovsk, known as Bakhmut in Ukraine, and mapping Russian troop positions, individual cell phones and radars.
The screenshots of what appear to be presentation slides, show a daily overview of the battlefield around Artyomovsk and other parts of Ukraine and detail the positions of both Russian and Ukrainian forces, approximations of their numbers, ammunition usage rates, and territorial gains and losses.
The intelligence was apparently gathered through extensive surveillance using a myriad of what the FBI has described as "classified sources and methods."
Most of the documents shared by the outlet are classified as 'top secret' and are part of the trove of Pentagon files which were allegedly uploaded to a gaming web forum by a 21-year-old US National Guardsman.
The US intelligence agencies seem to believe the city of Artyomovsk, which Kiev considers to be a crucial stronghold for its forces in Donbass, will inevitably fall into Russian hands, dealing a "psychological blow" to Kiev. It also noted that the morale of Ukrainian soldiers near Artyomovsk is "low."
However, according to Newsweek, Washington does not believe the city to be vital to the overall conflict and is looking to the future, building up Ukraine's long-anticipated spring counteroffensive, which is reportedly slated for the end of April.
An earlier report from German news outlet Bild suggested that many Ukrainian troops are not convinced Artyomovsk is worth clinging on to, and are "tense and worried" as Russia takes over the city street by street. Freelance journalist Jan Humin described the situation in the city as "hell" and stated that it was only "a matter of time" before the town was completely captured.
On April 2, fighters from the Wagner Group private military company declared that they had captured the city administration building. Wagner leader Evgeny Prigozhin claimed the fighting in Artyomovsk has "almost destroyed the Ukrainian army."
The nearly seven-month long battle for Artyomovsk has by many accounts become the bloodiest battlefield amid the ongoing military conflict between Russia and Ukraine, which began in late February of last year.
Ukrainian President Vladimir Zelensky has vowed to hold the city at all costs, despite warnings from his Western backers that such efforts risk depleting the country's forces and hindering Ukraine's spring counteroffensive.
You can share this story on social media: