Russian opposition activist Kara-Murza given 25-year sentence
The former journalist has lobbied Western governments to sanction Russia and was convicted of spreading 'disinformation' about the army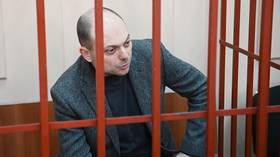 Russian opposition activist Vladimir Kara-Murza has been sentenced to 25 years in prison after being found guilty of high treason, cooperating with an 'undesirable' organization, and spreading 'disinformation' about the Russian armed forces.
The verdict was announced on Monday by the Moscow City Court, which also imposed a fine of 400,000 rubles ($4,900) and barred Kara-Murza from practicing journalism for seven years.
The former reporter, who also holds UK citizenship, was arrested in the spring of 2022 on suspicion of disseminating false information about the actions of the Russian military in Ukraine. Other charges were added as the criminal case progressed.
Kara-Murza is a long-time critic of the Kremlin who has been employed by US state-funded pressure groups, and has extensively lobbied Western governments to sanction Russia. He is a close associate of exiled former oligarch Mikhail Khodorkovsky, and is considered a protégé of the late opposition figure Boris Nemtsov.
The activist has denied the accusations and has insisted that the case is politically motivated. His lawyers have announced that they intend to appeal the verdict, alleging that "serious procedural violations" were committed.
A member of Kara-Murza's defense team, Vadim Prokhorov, previously noted that the case is the first in Russia to apply new laws on treason. According to the revised legislation, treason now includes assistance to states or organizations that engage in activities against the security of Russia, in addition to the transfer of secret information to third countries.
You can share this story on social media: