Russian students to be tested on Ukraine conflict – officials
Updated textbooks will be available this year, the education minister said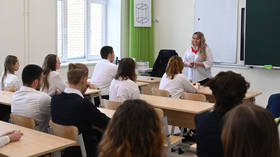 Russian school students will have to answer questions about Moscow's ongoing military offensive in Ukraine in their graduation exams, the country's education regulator Rosobrnadzor disclosed on Sunday.
Questions regarding the armed conflict will be added to standardized history tests. In order to graduate, Russian students are required to take a math test, a Russian language test, and two tests of their choice, one of which can be a history test. Test scores largely determine a student's chances of enrollment in a university.
The tests will be adjusted "as soon as all schools acquire textbooks that cover this topic and after students complete the course," Rosobrnadzor, which oversees education standards and curriculum, explained in a statement to news agency TASS.
Education Minister Sergey Kravtsov said on Monday that updated learning material would be available by September 1, which is when the new school year begins in Russia. The books are intended for students in the 10th and 11th grade, who are typically 16 and 17 years old, respectively.
"I read the section dedicated to the special military operation. All the causes of the SVO are explained there," the minister said, referring to the operation by its Russian abbreviation.
The Education Ministry said in January that new textbooks would be trialed this year before gradually replacing older material from 2024.
Russia began its military intervention in Ukraine on February 24, 2022, citing the need to protect the people of Donbass, and Kiev's failure to implement the 2014-2015 Minsk peace accords.
You can share this story on social media: