Donbass town comes under deadly Ukrainian shelling – official
Four people were killed in Yasinovataya in Donetsk People's Republic, according to DPR head Denis Pushilin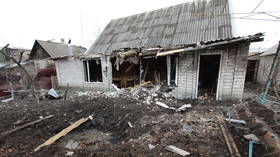 Four people, including a child, were killed when the town of Yasinovataya in Russia's Donetsk People's Republic (DPR) was shelled by Ukrainian forces on Friday, the acting head of the region, Denis Pushilin, has claimed.
"There has been more shelling of residential areas in the republic," Pushilin wrote on Telegram.
Four civilians lost their lives, including a seven-year-old girl, while at least ten others were injured, he added.
Emergency services were deployed and the wounded were provided with the necessary assistance, the DPR leader added.
Yasinovataya has a population of around 37,000 and is located 25km north of the republic's capital, Donetsk. The settlement hosts a major railway station.
"During the holidays, the enemy has intensified the shelling… Be careful," Pushilin warned the public as Orthodox Christians celebrate Easter on Sunday.
Ukraine launched a total of 23 attacks against settlements in the DPR on Friday, during which 108 rounds from both multiple rocket launchers and 155mm artillery were fired, local authorities stated.
In addition to Yasinovataya, Donetsk and the settlements of Gorlovka, Panteleymonovka, Vladimirovka, and Peski were targeted. In Peski, one person was reportedly wounded by the shelling.
The DPR was incorporated into Russia last October together with the People's Republic of Lugansk and Zaporozhye and Kherson Regions, following referendums in which the local populations voted overwhelmingly in favor of the move.
You can share this story on social media: