Kiev taps nationalist militant to govern Pechersk Lavra monastery
Ukrainian authorities have appointed a new caretaker director as the standoff over a major Orthodox monastery continues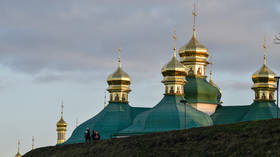 The Ukrainian government has appointed a new caretaker director of the Kiev Pechersk Lavra museum compound, which houses the largest Orthodox monastery in the country. The new appointee, Maksim Ostapenko, is known for having strong ties with nationalist paramilitaries in post-Maidan Ukraine.
The new acting director was presented by the Ukrainian Culture Minister, Aleksandr Tkachenko, on Friday.
"Maksim Ostapenko is a specialist in the protection of historical and cultural monuments, museology, archeology, restoration work, he is a PhD in history sciences, the author of more than 30 scientific papers, since 2007 he has served as the general director of the Khortitsa National Reserve. And from the beginning of a full-scale invasion, he joined the ranks of the Armed Forces of Ukraine," Tkachenko said, in a Telegram post presenting the new caretaker director.
Ostapenko built his entire career around Khortitsa, working at the reserve since 1989. The reserve is located on a large namesake island on the Dnepr River and is considered to be the heart of Zaporozhye Sech – the common name of several quasi-state entities of the Dnepr Cossacks that existed between the 16th and 18th centuries. As an archeologist, Ostapenko specializes in the ancient history of the region.
What the minister failed to mention, however, were the activities Ostapenko has been engaged in since early 2014, when the Maidan coup in Kiev deposed Ukraine's democratically-elected president, Viktor Yanukovich. The reserve director became one of the creators and the deputy commander of the so-called 'Khortitsa Regiment,' one of the many far-right paramilitary entities that sprouted across post-Maidan Ukraine.
The 'regiment' originally consisted of around 150 men and took only a limited part in the so-called 'anti-terrorist operation' launched by the post-Maidan authorities to squash the uprising in the then-Ukrainian regions of Donetsk and Lugansk, which had rejected the coup. Instead, the unit focused its efforts on fighting a purported "separatist" threat in the Zaporozhye region, ultimately facing allegations of banditry, extortion and other crimes.
Despite the allegations, the unit continued to exist as a "patriotic" entity tutoring youth until the beginning of the ongoing conflict between Moscow and Kiev in February 2022. The unit then got incorporated into local territorial defense, yet apparently again largely shied away from the frontline.
The unit emblem features a wolf in black and red colors, commonly associated with Second World War-era Ukrainian nationalist and Nazi collaborator units, hailed in the present-day country as national "heroes." The Khortitsa Regiment members had repeatedly awarded themselves with souvenir medals with the same choice of colors, praising themselves for their purported effort in fighting separatists. The ceremonies of the paramilitary unit had been staged right at the heart of the Khortitsa reserve – a wooden 'Cossack fortress,' erected there in the mid-2000s.
You can share this story on social media: