Alleged mastermind behind military blogger's murder identified
The FSB claims a Ukrainian man was behind the assassination of Vladlen Tatarsky in St. Petersburg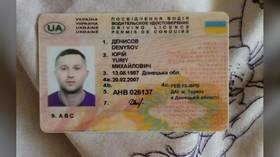 Russia's Federal Security Service (FSB) has named Ukrainian citizen Yury Denisov as the organizer of the assassination of military blogger Vladlen Tatarsky at a St. Petersburg café earlier this month.
According to the agency, Denisov traveled to Russia from Kiev via Latvia in February. He used an intermediary to deliver the bomb to a woman who brought it to the St. Petersburg café where Tatarsky was hosting a talk on April 2.
The subsequent explosion killed the blogger and injured dozens of other people. Denisov left Russia the next day, traveling through Armenia and Turkey, the FSB claimed.
Before the assassination was carried out, the agency claims Denisov spent time in Moscow Region collecting intelligence on Tatarsky, the statement added. Russia is formulating an international arrest warrant for the suspect.
The FSB has released several images of Denisov, including of him apparently passing customs control at the Russian border. Photos were also released of his Ukrainian driver's license and a redacted contract for the purchase of a used car in Moscow.
Investigators have pinned the bombing on "Ukrainian special services and their agents, including fugitive members of the Russian opposition." The statement specifically named several associates of jailed opposition figure Alexey Navalny as inspiring Denisov's alleged accomplice, Darya Trepova, to carry out sabotage in Russia.
They "repeatedly made statements about the need for sabotage actions in Russia," the FSB claimed. It added that Trepova was a supporter of Navalny.
Tatarsky, whose real name was Maksim Fomin, was a former Donbass fighter and popular military blogger who advocated a decisive stance regarding the Russian military operation against Ukraine. His talk in St. Petersburg was hosted by a café that is connected with Evgeny Prigozhin, the leader of the Wagner Group private military organization. Kiev has denied any responsibility for the bombing.
You can share this story on social media: