Ukraine grooming Russian youth for terror attacks – FSB
Kiev and Western special services are waging an aggressive brainwashing campaign, Alexander Bortnikov has claimed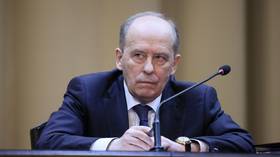 Western and Ukrainian intelligence services are trying to recruit Russian youth to carry out terrorist attacks against their own country, Alexander Bortnikov, the head of Russia's Federal Security Service (FSB), said on Tuesday.
Speaking at a session of the National Anti-Terrorism Committee (NAK), over which he presides, Bortnikov claimed, according to the NAK statement, that amid the ongoing conflict between Moscow and Kiev, "Ukraine and their Western sponsors' special services have launched an aggressive brainwashing and recruitment [campaign] on our citizens."
One of the main tasks of Kiev and their Western backers is to target "especially the younger generation to involve them in sabotage, terrorist and extremist activities," he added.
Since February 2022, when Moscow launched its operation against Ukraine, Russia has prevented 118 terrorist crimes being prepared by young people and minors, Bortnikov said.
The FSB director also pointed to "a serious threat" stemming from attempts by some students, who are influenced by various "destructive subcultures," to lay the groundwork for attacks on Russian schools and other educational institutions. "Some of [these subcultures] are coordinated from Ukrainian territory," he added, according to the statement.
With this in mind, NAK members have discussed measures aimed to prevent terrorist activities. Such steps include awareness-building campaigns in educational institutions, with an emphasis on "countering terrorism and neo-Nazi ideology among the youth" in former Ukrainian regions that voted to join Russia last autumn.
The meeting of the committee came after prominent military blogger Vladlen Tatarsky was murdered in a blast in a St. Petersburg cafe earlier this month. The explosion, which also injured several dozen people, was caused by a statuette brought to the event by Darya Trepova, 26, who is now in police custody.
However, Russian authorities have said that the bomb plot was orchestrated by Ukrainian special services using agents collaborating with opposition figure Alexey Navalny's anti-corruption fund FBK, which was designated an extremist organization in 2021.
In late February, Russian President Vladimir Putin warned that the West had "never hesitated to use both radicals and extremists for their own interests." "They always use against us whatever is at hand," he said at the time.
You can share this story on social media: