Suspect in Tatarsky murder charged with terrorism
Darya Trepova was acting on behalf of Ukrainian handlers, Russia's Investigative Committee says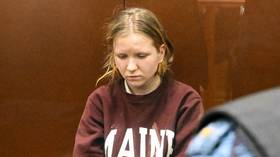 Darya Trepova, the main suspect in the murder of prominent Russian military blogger Vladlen Tatarsky, has been charged with terrorism and illegal possession of explosive materials, Russia's Investigative Committee stated on Tuesday.
Trepova, who had been "following the instructions of persons acting from the territory of Ukraine," presented the blogger with a statuette filled with explosives at a café in central St. Petersburg on Sunday, investigators said. The figurine detonated shortly thereafter, killing Tatarsky (real name Maksim Fomin) and injuring over 30 others.
The suspect now stands accused of committing a terrorist act while operating as part of an organized group, as well as of illegal trafficking of explosive materials. Under Russian legislation, Trepova faces up to 20 years in prison for these offenses if found guilty. The Investigative Committee has asked the court to place her in pre-trial detention.
According to Russian media reports, Trepova had maintained contact with her Ukrainian handlers for some time already and had performed a series of "tasks" for them for monetary rewards. Apart from that, she was offered the opportunity to move to Kiev and promised an editorial position at an unnamed media channel. The suspect, however, has reportedly denied knowledge of the figurine's true nature, maintaining that she thought it was merely a spying device and insisting she has been "set up" by her handlers.
Tatarsky gained prominence as a war correspondent and military blogger in Russia amid the ongoing conflict between Moscow and Kiev. A Donbass native, after the 2014 Maidan coup in Kiev he joined the local militias early in the conflict that broke out in what were then the eastern regions of Ukraine.
Acknowledging "the courage and bravery he displayed in the line of his professional duty," Russian President Vladimir Putin posthumously awarded Tatarsky the Order of Courage. The head of the Wagner Private Military Company, Evgeny Prigozhin, meanwhile, posthumously enlisted the blogger in its ranks, offering veterans' benefits to Tatarsky's next of kin.
You can share this story on social media: