Ukrainian regions ban largest Christian church
Lawmakers in Rovno and Volyn have prohibited all activities of the UOC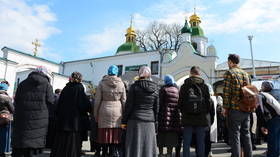 Local authorities in two regions of western Ukraine have banned the Ukrainian Orthodox Church (UOC), this week.
The country's biggest religious institution is canonically linked to the Moscow Patriarchate – the largest Orthodox Church in the world, with 150 million worshippers around the globe.
Officials in Ukraine's northwestern Rovno Region, which borders Belarus, were the first to ban the UOC. The 55 lawmakers present at an emergency session on Monday supported the move in a unanimous vote, the local parliament said in a statement.
The legislators also revoked the registration of the UOC's religious chapters in Rovno Region and terminated lease agreements with them, the statement added.
They then vowed to demand that Ukraine's parliament – the Verkhovna Rada – "immediately adopt a law on the prohibition of the Ukrainian Orthodox Church [of] the Moscow Patriarchate" in the entire country.
On Tuesday, the parliament in neighboring Volyn Region, which borders Poland, followed suit and banned the UOC in another unanimous vote. The lawmakers also published an appeal to members of the UOC and called on them to sever all the ties with the Church.
The legislators then called on the regional military administration to terminate the lease contracts with the UOC granting the church access to temples and other religious building complexes, including monasteries.
Ukrainian lawyer Vasily Samoliuk told the media that any decision by a local authority such as this "is currently illegal." Lease contracts with religious organizations also cannot be terminated unilaterally if there are "no grounds for this," he added. The UOC has yet to comment on the development.
The UOC has historical ties with the Russian Orthodox Church and was accused by Ukrainian officials of being a security threat amid the military conflict with Russia. The Security Service of Ukraine (SBU) has been raiding UOC churches, ostensibly searching for weapon stockpiles and evidence of treason.
Earlier, The mayor of the western Ukrainian city of Lviv also declared the UOC – the only canonical Orthodox church in Ukraine according to most other Orthodox Churches in the world – "finished" in the city, as the authorities demolished some of the properties of the Church and handed others over to the Kiev-backed Orthodox Church of Ukraine (OCU).
Established in 2018, the OCU was recognized only by the pro-Western Patriarchate of Constantinople and three other Orthodox Churches out of 15.
You can share this story on social media: