Russian officials suggest lifting Twitter ban
Calls come after the platform lifted restrictions on accounts linked to the Russian government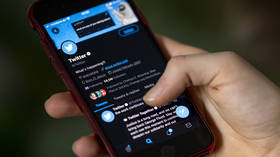 Several high-ranking Russian officials have suggested unblocking Twitter after the social media giant removed restrictions on accounts affiliated with the country's government.
On Monday, Anton Gorelkin, the deputy head of the State Duma committee on information policy, described Twitter CEO Elon Musk's decision on the matter as a "miracle." He noted that users were now once again free to read posts published by the Kremlin, Russia's Foreign Ministry, Moscow's embassies abroad and other state institutions.
With regard to the platform's new policies, he went on to suggest that it was "high time" to reconsider the ban on Twitter in Russia, where the site has been blocked since last spring.
"If the social network seeks neutrality, we should resume dialogue with it and continue working within the framework of Russian law," he wrote on Telegram. According to the MP, Twitter may once again become a convenient platform for Russian officials to explain Moscow's view on global affairs to Western audiences.
He expressed hope that Musk wouldn't change his mind due to pressure from Western media outlets, "who have already begun to resent and claim that they receive too little money from the authorities to be considered pro-government."
Ekaterina Mizulina, the head of the Safe Internet League and member of the Russian Civic Chamber, also voiced support for the move. She said that Twitter had changed its policies "regarding the dissemination of banned content" and eliminated censorship against Russian state-affiliated accounts – a move that she said had left the US fuming.
The platform is demonstrating a new approach to work following Elon Musk's purchase. I believe that Russia can start working on revising the decision to restrict the platform's operations.
Musk has already faced criticism over his move to lift the restrictions against Russia-linked accounts. On Sunday, he rejected calls to crack down on the account of former Russian president Dmitry Medvedev by saying that "all news is to some degree propaganda. Let people decide for themselves."
Twitter slapped restrictions on Russian state-affiliated accounts in April 2022 after Moscow started its military operation in Ukraine. It claimed that it would "not amplify or recommend government accounts belonging to states that limit access to free information and are engaged in armed interstate conflict."
The platform' policies started to change only after Musk completed his $44 billion deal to buy the social media company last fall.
Twitter has been banned in Russia since March 2022 over what the nation's media watchdog, Roskomnadzor, described as spreading misinformation about the Ukraine conflict.
You can share this story on social media: