EU country cracks down on Russian media
Estonia has banned more than 50 websites used to watch Russian TV channels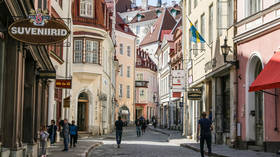 Estonia has blocked access to 53 websites that were used to watch banned Russian TV channels, the Baltic country's Consumer Protection and Technical Regulatory Authority (TTJA) said on Wednesday.
The regulator added that the crackdown was conducted in accordance with the EU sanctions on Russian media.
TTJA Director General Kristi Talving cited a poll commissioned by the Estonian government, which found that the trust of Russian channels has fallen from 40% to 18%. "Based on these numbers, we can say that the work to protect the Estonian information space has been effective," Talving said.
Nearly 40% of people living in Estonia speak Russian, according to the official census. The country has had a sizable Russian minority from the time that it was part of the Soviet Union.
The EU banned the broadcasting of content from multiple Russian news organizations, including RT, in response to Moscow's military operation in Ukraine, which was launched in February 2022. The EU's top diplomat, Josep Borrell, accused the news outlets of spreading disinformation.
Estonia separately banned six Russian TV channels in February 2022. Next month, the TTJA blacklisted seven outlets, including Channel One and news agency TASS.
The Russian Foreign Ministry has described the ban on the country's news organizations in the EU as an act of censorship aimed at "purging the information space of the presence of any media that is an alternative to Western [media]."
You can share this story on social media: