RT Spanish 'thriving' despite bans – Reuters Institute
Western fact-checkers bemoan the popularity of "Putin's propaganda" in South America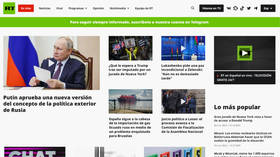 RT's Spanish-language channel is "thriving" in Latin America and "disinformation" crusaders in the West are conflicted over what to do about the newsbrand's success, according to a report by the Reuters Institute for the Study of Journalism at the University of Oxford.
Panamanian journalist Gretel Kahn published a report on Thursday claiming that the channel is "a propaganda tool at the service of the Kremlin's foreign policy agenda and has helped Vladimir Putin get across his message at a time when he's more isolated than ever."
Kahn noted that RT Spanish was "more successful than any of the other" RT language verticals, though she used 2018 audience figures for that claim. With 18 million viewers and 25 million social media followers at the time, RT Spanish was "one of the most followed foreign news services in the region."
According to the Atlantic Council's Digital Forensic Research Lab, Russian media outlets "dominate social media conversations" in South America when it comes to the conflict in Ukraine, with RT Spanish "the third most-shared domain on Twitter," after YouTube and the Madrid daily El Pais.
DFR senior fellow Iria Puyosa is quoted multiple times in the article, arguing that RT is "questioning US imperialism," and presenting a narrative in which Moscow is offering a new world order where the "Global South has a seat at the table."
The report cites Vladimir Rouvinski, a professor at the Icesi university in Colombia, who points out that RT Spanish and Sputnik are "much better positioned as an alternative source to more traditional global outlets like BBC or CNN and even better positioned than some local news media."
Rouvinski claimed the appeal was due to the "deficit of non-Western media in Latin America, anti-American sentiment in the region and lack of knowledge of the realities of today's Russia."
While RT Spanish looms large in the Reuters report, the "disinformation" activists and "independent fact-checkers" interviewed by Kahn also blamed the messaging app Telegram, Russian bots and trolls, social media influencers, and even Russian embassies, which "amplify" the messaging of "Kremlin media outlets."
United in alarm over "Russian disinformation," the people who spoke to Kahn were divided on how to go about fighting it. Rouvinski called for more "education" of Latin American audiences. One Spanish fact-checker, Julio Montes of Maldita.es, said there was a need to "regulate disinformation" by defining what is a proper media outlet. DFR's Puyosa, however, said banning RT and Sputnik would be "making their point for them and making their tool more credible."
The Reuters Institute report was published the same day Facebook informed RT Arabic that its page with 17 million subscribers would be deleted, without explanation or recourse. Canada and the EU have already banned all "Russian state media" for alleged disinformation about the conflict in Ukraine.
Testifying before the US Congress recently, American journalist Matt Taibbi identified DFR Lab as one of the major players in the "censorship-industrial complex," offering documents provided by Twitter as evidence.
You can share this story on social media: