West seeks to crush Christian Church in Ukraine – Moscow
The ongoing church conflict "has the traits of a religious war," Sergey Naryshkin has said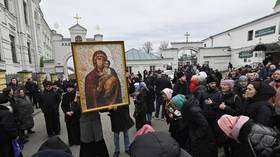 Kiev's crackdown on the canonical Ukrainian Orthodox Church (UOC) is part of a Western campaign to undermine religion in Ukraine and its role as the glue that unites the faithful, senior Russian intelligence official Sergey Naryshkin has said.
"The current regime in Kiev and its masters in the capitals of Western nations seek not only to ban, but to physically destroy canonical Orthodoxy in the territory of Ukraine," he stated on Tuesday. The official heads the Foreign Intelligence Service of Russia (SVR). He made the remarks during a media event in Minsk, where he is meeting with the Belarusian leadership.
Western governments realize the value of faith "amid the collapse of ideologies and a fight for world dominance," Naryshkin added. Russian Orthodoxy serves as "a spiritual force, which remains the foundation of unity of Orthodox peoples."
He claimed that the West recognizes virtually no red lines "when it comes to fueling religious conflicts." The situation in Ukraine has the "traits of a religious war," he warned.
The UOC has historical ties with the Russian Orthodox Church and was accused by Ukrainian officials of being a security threat amid the military conflict with Russia. The Security Service of Ukraine (SBU) has been raiding UOC churches, claiming to search for weapon stockpiles and evidence of treason.
The service "is literally producing lists of dissidents, people [it considers] disloyal, and those people are subjected to pressure," Naryshkin said.
Last month, religious tensions escalated after the Culture Ministry ordered UOC monks to leave their homes at the Kiev Pechersk Lavra, a prominent monastery in the Ukrainian capital.
The culture minister said they could stay if they agreed to break with the Church and join the government-backed Orthodox Church of Ukraine (OCU). Most Eastern Orthodox Churches of the world consider the organization non-canonical, though a handful led by the Constantinople Patriarchate acknowledged the OCU, causing a major schism among believers.
The UOC bishop in charge of the monastery, Metropolitan Pavel, was placed under house arrest last week in a village 50km from Kiev. He is suspected of incitement and "justification of Russian aggression." Days earlier, the senior priest blamed President Vladimir Zelensky personally for the crackdown on the church.
You can share this story on social media: