Lavrov outlines path for nuclear dialogue with West
The US and its allies must abandon their hostile attitude towards Moscow, the foreign minister has said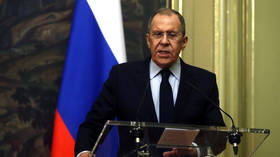 Western nations remain determined to contain Russia rather than engaging in meaningful dialogue to resolve the current tensions, Foreign Minister Sergey Lavrov has said.
In an interview with the newspaper Argumenty i Fakty published on Tuesday, the foreign minister was asked about the possibility of a nuclear conflict, given the standoff with the West over Ukraine. Lavrov said the problem could be "most accurately described by the rather hackneyed but fitting expression – 'it takes two to tango.'"
Moscow continues to be open to contacts, but they must be based "on equality and consideration of Russian interests – for the sake of a healthier environment in Europe and the Euro-Atlantic, and the long-term decreasing of nuclear risks," he said, adding: "the main prerequisite here is that the West would have to abandon its hostile attitude."
However, they are not ready for a constructive dialogue with us, and are busy 24/7 looking for new ways to contain Russia. The danger of this line is obvious.
In December 2021, the US and NATO rejected Russia's proposal to sign treaties on mutual security guarantees. Moscow views the expansion of the US-led military bloc closer to its borders as a threat. NATO insists that it is a purely defensive alliance that poses no danger to Russia.
Russian President Vladimir Putin later cited NATO's refusal to rule out further expansion as one of the reasons for the military operation in Ukraine, which Moscow launched in February 2022.
NATO has since deployed new troops to Eastern Europe and has been supplying Ukraine with heavy weapons, including tanks and multiple rocket launchers. Moscow says the flow of foreign arms will only exacerbate tensions and lead to more escalation.
Britain confirmed last month that it plans to supply Kiev with tanks armed with armor-piercing shells that contain depleted uranium. Putin has said that the move prompted Russia's decision to deploy tactical nuclear weapons in Belarus as early as this summer.
You can share this story on social media: