Kiev behind murder of Russian military blogger – Moscow
The Ukrainian authorities planned Sunday's bombing of a St. Petersburg café, officials have said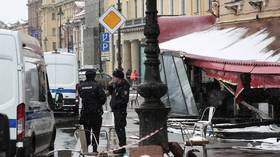 The blast in St. Petersburg that killed military blogger Vladlen Tatarsky was orchestrated by Ukraine, Russia's National Anti-Terrorism Committee (NAK) said on Monday. It described the murder as "a terrorist attack."
Tatarsky, whose real name was Maksim Fomin, was hosting a live event with his followers in a café in the city's historical center on Sunday when a bomb went off, killing him and wounding more than 30 others.
According to the NAK, Kiev used "individuals who collaborated with [Alexey] Navalny's Anti-Corruption Foundation [FBK]" to carry out the attack. Officials described suspect Darya Trepova, who was detained on Monday, as an "active supporter" of the FBK.
Navalny, an anti-corruption campaigner and opposition figure, founded the FBK in 2011. The organization was labeled by the authorities as 'extremist' and banned in Russia in 2021. Navalny is currently serving a prison sentence for an embezzlement conviction. He accused Russian officials of trying to poison him after suddenly falling ill on a domestic flight in 2020. The Kremlin denied any involvement in the incident.
Witnesses told Russian media that the young woman attended Tatarsky's event and gave him a figurine as a gift shortly before the blast.
A Donbass native, Tatarsky joined the local forces that fought against Ukrainian troops in the wake of the 2014 coup in Kiev. He later built a career as a prominent blogger, covering the Russia-Ukraine conflict on his Telegram channel.
Last year, the Russian authorities claimed that Kiev was behind a car bombing near Moscow that killed journalist Darya Dugina. Ukrainian President Vladimir Zelensky denied that his country played a role in her death.
You can share this story on social media: