Suspect detained in murder of Russian military blogger – officials
Police believe 26-year-old Darya Trepova was involved in the bombing that killed Vladlen Tatarsky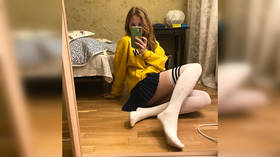 A woman suspected of killing prominent Russian military blogger Vladlen Tatarsky has been detained, the country's Investigative Committee announced on Monday. Darya Trepova was earlier placed on Russia's wanted list.
Tatarsky, whose real name was Maksim Fomin, was speaking at an event at a café in central St. Petersburg on Sunday evening when a bomb went off, killing him and injuring more than 30 people. Witnesses said that a young woman had given Tatarsky a figurine as a gift shortly before the blast.
According to the Fontanka news website, Trepova was detained in a St. Petersburg apartment that belonged to a friend of her husband. The outlet said she had a plane ticket for a flight to Uzbekistan.
Trepova reportedly exchanged text messages with Tatarsky and attended other events at which he participated. One of her friends told the Russian media that Trepova had planned to leave the country and travel to Ukraine.
A Donbass native, Tatarsky joined local forces to fight Ukrainian troops after the 2014 coup in Kiev. He became a prominent blogger, covering the Russia-Ukraine conflict on his Telegram channel and posting dispatches from the battlefield. He also wrote several books on the subject.
In August 2022, journalist Darya Dugina, who backed Russia's offensive against Ukraine and covered the conflict, was killed when a car she was driving exploded. Moscow accused Ukraine of orchestrating the attack, although Kiev denied any involvement. Dugina was the daughter of writer and philosopher Aleksandr Dugin, who has been described by the Western media as an influential ideologue of Russian nationalism.
You can share this story on social media: