US behind religious crackdown in Ukraine – Moscow
Washington uses Kiev's policies as a tool against Russia, the Foreign Ministry has claimed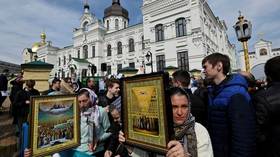 The US is complicit in the ongoing religious crackdown in Ukraine, seeking to drive a wedge between the nation's faithful as part of its anti-Russia foreign policy, Moscow's Foreign Ministry said on Sunday.
In a statement, the ministry commented on the recent decision of the authorities in Kiev to place the abbot of the Kiev Pechersk Lavra – Ukraine's most prominent Orthodox monastery – Metropolitan Pavel (secular name Pyotr Lebed) under house arrest. The senior cleric is suspected of harboring pro-Russian sentiment and inciting inter-religious hatred, which he denies.
This latest development, the statement reads, shows that Ukraine's campaign to seize the Lavra "has come to a head."
However, the ministry claimed that "it is no secret that [Ukrainian President Vladimir] Zelensky's regime is not independent in its anti-church policy."
"A split in Orthodoxy, a blow to this sphere of life, is the goal proclaimed by Washington a long time ago," the ministry stated, adding that the US has created a "perverted mechanism of direct and indirect influence on the confessional side of Kiev politics."
Activities in this direction are supported by the US ambassador-at-large for international religious freedom and the Commission on International Religious Freedom, it added.
The ongoing situation with the Lavra and other churches in Ukraine "is of completely man-made nature and is a man-made incitement of religious hatred," the ministry claimed.
"Appointed by Washington… Ukraine's incumbent fully understands his dependence on the US. He is pursuing an anti-Orthodox policy at the behest of the Americans who are solving anti-Russia tasks, once again using the Ukrainian administration as nothing more than a tool."
The ministry added that Kiev's religious policies affect not only the Orthodox faithful, pointing to reports of Islamophobia and anti-Semitism in the country.
In recent weeks, the Ukrainian authorities have conducted a massive crackdown on the Ukrainian Orthodox Church (UOC), which is suspected by Kiev of covertly supporting Russia, despite the fact that the church proclaimed its independence from Moscow after the start of the conflict in February 2022.
Last month, as part of the campaign against the UOC, the authorities demanded that the Lavra monks vacate the monastery, citing an alleged violation of a 2013 agreement which allowed the entity to administer the religious site. The UOC refused to comply, dismissing the order as unlawful.
Ukraine has long experienced religious tensions, with several entities claiming to be the true Orthodox Church. The two main rivals are the Ukrainian Orthodox Church and the Kiev-backed Orthodox Church of Ukraine (OCU), which is considered by the Russian Orthodox Church to be schismatic.
You can share this story on social media: