VIDEO of blast which killed Russian blogger surfaces
The explosion in the city of St. Petersburg has left one person dead and at least 32 injured, authorities report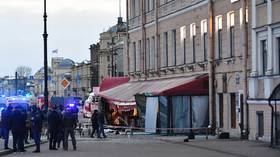 Footage of the blast that rocked a café in St. Petersburg and killed prominent Russian war correspondent Vladlen Tatarsky has been published by several news media outlets, including the '112' Telegram channel and Life News.
The video taken from outside the café shows a powerful detonation wave leading to a collapse of the venue's façade glazing. Other footage from the immediate aftermath of the blast shows shocked people walking along a street in front of the café littered with debris and glass shards.
Inside the café, a video shows a destroyed stage as well as damaged and crumpled furniture lying across the room.
According to the emergency services, the blast that killed Tatarsky also left at least 32 people injured. The power of the improvised explosive device allegedly used in the incident was equivalent to 200 grams TNT, TASS reported, citing sources.
The incident took place inside the 'Street Bar 1' café located in the historic center of St. Petersburg, on the Neva riverbank just across from the iconic Admiralty building. Tatarsky, a prominent war reporter who was born in Donbass, was holding an event there on Sunday.
According to several Russian media reports, the improvised explosive device was camouflaged as a statuette given to Tatarsky during the event.
You can share this story on social media: