Russia boosts ammunition production – defense minister
The country's defense industry has become much more efficient, Sergey Shoigu has claimed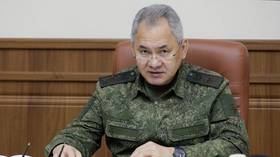 Russia has significantly boosted production of ammunition to support its troops in the Ukraine conflict, Defense Minister Sergey Shoigu said on Saturday.
Shoigu delivered his remarks as he met with top military officials at the headquarters of the joint staff of the Russian armed forces, according to the ministry's statement. There, he was briefed on the current battlefield situation while also raising the issue of supplying the army with munitions.
During the gathering, the minister assured those assembled that "the provision to troops of weapons of destruction is currently under constant control" of the government and the Defense Ministry, with Russian authorities "taking the required measures to boost" production of ammo.
Shoigu went on to say that "due to the expansion of production capacities and the increase in labor productivity" the defense industrial complex "had increased manifold" the amount of munitions produced.
"We are talking about both conventional and high-precision types of weapons. All this allows us to fulfill the tasks set by the Supreme Commander-in-Chief in accordance with the plan for conducting a special military operation," the minister added, referring to the rank held by Russian President Vladimir Putin.
In its statement, the ministry also noted that apart from ramping up ammo production, the meeting was focused on logistics issues.
While visiting the HQ, Shoigu seized the opportunity to award an unspecified number of Russian service members with the Golden Star, which comes together with the highly prestigious title of the Hero of the Russian Federation, as well as with other state decorations.
Amid the ongoing Ukraine conflict, Moscow has ramped up its defense spending and made an effort to increase production of military equipment. In an interview with Russia 1 TV last month, Vladimir Putin said that Moscow's forces have been using far more munitions than Ukraine, and they "even had to introduce certain limitations."
At the time, he also noted that while the West continued to send arms and munitions to Ukraine, the Russian defense industrial complex would produce much more weapons than Kiev would receive from its backers. He added that foreign military assistance to Kiev concerns Russia only because it constitutes "an attempt to prolong the conflict" and will "lead to a bigger tragedy and nothing more."
You can share this story on social media: