Russia outproducing West's ammunition supplies to Kiev – Putin
The country is boosting its defense production capacity at a rapid pace, the president has said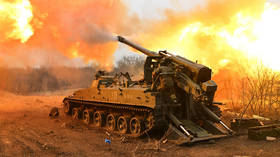 Russia is set to drastically increase its munitions production, President Vladimir Putin has said, adding that Western arms shipments to Kiev will only delay the inevitable outcome of the Ukraine conflict.
In an interview with Russia 1 TV aired on Saturday, Putin was asked to comment on Western plans to support Ukraine with a million additional artillery shells.
While describing the amount as "very considerable," the president stated that according to Moscow's data, the US is currently producing 14,000-15,000 artillery shells a month, while the Ukrainian military uses up to 5,000 shells each day. "Next year… [the US plans] to produce as much as 42,000, and 75,000 in 2025."
However, Putin said that Moscow's forces have been using far more munitions than Ukraine, and that the Ministry of Defense and the General Staff "even had to introduce certain limitations."
"Russia's output level and its military-industrial complex are developing at a very fast pace, which was unexpected by many," he said. While multiple Western countries will provide Ukraine with munitions, "the Russian production sector on its own will produce three times more ammunition for the same period of time," according to the president.
Putin also noted that the Western "instigators" of the conflict plan to send more than 400 tanks to Ukraine. "The situation here is the same as with the ammunition. During that period, we will produce and modernize over 1,600 [tanks]," he said, adding that the total number will exceed Ukraine's by more than three times.
Putin stated that the arms shipments to Ukraine are of concern to Russia only because they constitute "an attempt to prolong the conflict" and will "only lead to a bigger tragedy and nothing more."
The president's comments come after former Russian President Dmitry Medvedev, who now serves as deputy chairman of the Security Council, stated this week that Moscow has rapidly boosted military production despite the Western sanctions and claims that Russia is running out of weapons.
You can share this story on social media: