Putin approves new foreign policy doctrine
The strategic document places a heavy emphasis on the Western "hybrid war" against Russia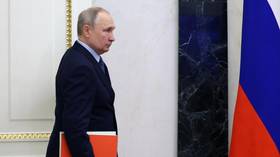 President Vladimir Putin has signed an updated version of Russia's foreign policy doctrine, a key strategic document which outlines the principles, goals and priorities of the country's international diplomacy. The new document features a focus on Western efforts to undermine Moscow amid the Ukraine conflict.
Putin explained that the key document had to be altered due to "drastic changes" in the international landscape.
The move was announced by the president on Friday during a meeting with top Russian Security Council officials, including, among others, Prime Minister Mikhail Mishustin, Foreign Minister Sergey Lavrov, and Defense Minister Sergey Shoigu.
Outlining the key provisions of the paper, Lavrov noted that it reflects "revolutionary changes on [Russia's] external perimeter which received a visible boost after the start of the special military operation" in Ukraine more than a year ago.
The document puts Western, and particularly American, efforts to undermine Russian interests in the spotlight, stating that "The United States and their satellites have used measures, taken by the Russian Federation to protect its vital interests regarding Ukraine, as a pretext to escalate their long-standing anti-Russian policies, and have unleashed a hybrid war of a new type."
This hybrid war, the concept argues, seeks to "weaken Russia in every possible way," including by undermining its military, economic, and technological potential as well as aiming to "limit its sovereignty in external and internal politics and to erode its territorial integrity."
However, the paper asserts that Moscow "does not see itself as the West's enemy, does not isolate itself from it and harbors no hostile intentions towards it." It adds that Russia expects Western powers to "recognize the futility of confrontational policies and hegemonic ambitions" and to eventually return to pragmatic cooperation with Russia based on mutual respect.
"The Russian Federation is ready for dialogue and cooperation on such a basis," the concept stresses.
The previous version of the foreign policy concept document, which was signed in 2016, was heavily focused on fighting terrorism, boosting international cooperation, enhancing Russia's global footprint, and safeguarding the nation's sovereignty.
You can share this story on social media: