Moscow outlines Ukraine peace demands
Russia's deputy foreign minister has listed the steps Kiev must take before hostilities can end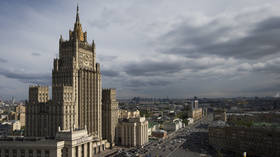 Russian Deputy Foreign Minister Mikhail Galuzin has offered a ten-point list of steps the government in Kiev needs to take in order for hostilities to cease. In an interview on Wednesday, Galuzin said the future of Ukraine itself will depend on how soon Kiev and its Western backers come to grips with reality.
For Ukraine to bring about peace, its military forces must stand down and the West must halt all deliveries of weapons to Kiev, Galuzin told the outlet RTVI.
Several other conditions he listed have been on the table since the hostilities escalated in February 2022, such as Ukraine's demilitarization and "denazification," a pledge to never join the EU or NATO, and the affirmation of Kiev's non-nuclear status. Another was added in October 2022, and involves the recognition of "new territorial realities" – commonly understood to mean the decision of Kherson, Zaporozhye and the republics of Donetsk and Lugansk to join Russia.
Ensuring the protection of the Russian language and the rights of Russian-speaking citizens, as well as all other ethnic groups in Ukraine was also on Galuzin's list. Moreover, he said Ukraine needs to reopen the border with Russia and restore the legal framework of relations with Moscow and other ex-Soviet republics, which it renounced following the US-backed coup in 2014.
For the first time, Moscow has demanded the lifting of all anti-Russian sanctions and the "withdrawal of claims and termination of prosecutions against Russia, its individuals and legal entities," presumably including the recent International Criminal Court (ICC) warrants for President Vladimir Putin and the children's rights commissioner, Maria Lvova-Belova.
The last demand on Galuzin's list was for the West to pay for the reconstruction of civilian infrastructure destroyed by Ukraine's military since 2014.
Ukraine's peaceful future depends on respecting the rights of its Russian population, restoring friendly relations with all neighbors, and returning to its founding principle of neutral and non-bloc status, enshrined in the 1990 declaration of independence, Galuzin said.
"The future of the territories of present-day Ukraine should be determined by the inhabitants of this country themselves," Galuzin told RTVI, noting that this includes "Ukrainians, Russians, Jews, Hungarians, Moldovans, Bulgarians, Romanians, Poles, and Greeks."
Moscow will simply not tolerate "an openly anti-Russian state, whatever its borders," as a neighbor, said Galuzin. "Neither Russia, nor any other state, would accept this from the standpoint of security."
The "peace platform" adopted by the government in Kiev includes Russia's total withdrawal from all territories Ukraine claims as its own, payment of reparations, and war crimes tribunals for the military and political leadership in Moscow.
You can share this story on social media: