Kremlin sees only military solution to Ukraine conflict
The ongoing "hybrid war" between Russia and its adversaries is set to go on for a long time, Putin's spokesman ha claimed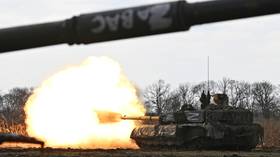 There is no possible political or diplomatic solution to the ongoing conflict with Ukraine at the moment, Kremlin spokesman Dmitry Peskov has insisted. He added that Moscow regrets other avenues for resolution are not open.
Speaking to Russian journalists on Wednesday, Peskov reiterated Moscow's resolve to reach its goals, which were outlined by President Vladimir Putin at the start of the military operation over a year ago.
"We have repeatedly said that Russia's goals … can be achieved in various ways. These are politico-diplomatic or – if politico-diplomatic are currently impossible, and in the case of Ukraine, they are impossible, to our regret – through military means, that is, through the special military operation," Peskov stated.
The spokesman did not provide any estimates on when the ongoing conflict between Moscow and Kiev might end, re-addressing the question to the country's Defense Ministry. At the same time, he said the broader conflict – a "hybrid war" between Russia and its adversaries – is likely to drag on for a long time.
"This confrontation with hostile states, with the unfriendly countries, this is a hybrid war that they unleashed onto our country, it'll be there for a long time," Peskov said.
Separately, Russian Deputy Foreign Minister Mikhail Galuzin confirmed that Moscow's goals for the Ukraine operation are unchanged, and reaching them is the only way to achieve a "comprehensive, just and sustainable peace in Ukraine and Europe."
Moscow is calling for a neutral, non-aligned status for a demilitarized and denazified Ukraine, insists Kiev drops its plans to join NATO and the EU and demands Ukraine confirms its non-nuclear status, he explained in an interview on RTVI on Wednesday.
Apart from that, Kiev and the international community must recognize the new "territorial reality" on the ground, Galuzin stressed, in reference to the incorporation of the four former Ukrainian regions of Kherson and Zaporozhye, Donetsk and Lugansk People's Republics into Russia following referendums held last September.
Moscow has repeatedly expressed its readiness for a diplomatic solution to the ongoing hostilities, blaming the lack of any diplomatic efforts on Kiev and its Western backers, who are seeking to inflict a "strategic defeat" on Russia.
"Washington, European capitals, but first of all, Washington is filled with the desire not to let, under any pretext, [Kiev] enter into peace negotiations. They simply do not let Kiev even think about it," Peskov said earlier this month.
You can share this story on social media: