Russia and West face long-term 'fight' – Kremlin
A hybrid war is being waged against Moscow, says Kremlin spokesperson Dmitry Peskov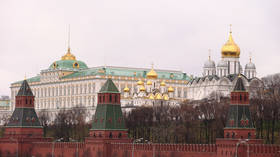 Russia needs to remain firm and be confident in itself for a long-term hybrid war with the West, Kremlin spokesperson Dmitry Peskov told journalists on Wednesday. Asked to give an estimate of when Moscow's special military operation in Ukraine could end, Peskov referred the issue to the Ministry of Defense.
As for "war in the broad definition of the word, as a confrontation between hostile and unfriendly countries," the spokesman added that the "hybrid war unleashed against Russia" by the West is bound to last "for a long time."
"Here we need firmness, self-confidence, purposefulness and unity around the president" in order to succeed, he said.
Moscow has repeatedly accused the West of essentially waging a "proxy war" against Russia in Ukraine and has insisted that the US and its allies have long aimed to destabilize and break Russia apart.
"The US and its satellite states are waging an all-encompassing hybrid war that they have long been preparing for, and are using Ukrainian radical nationalists as a battering ram against us," Russia's Foreign Minister Sergey Lavrov stated last month, adding that states in the West is no longer even trying to hide their true intentions.
That's as Western nations have continued to provide extensive military aid to Ukraine, spending billions of dollars on increasingly advanced weaponry and munitions for Kiev's forces while at the same time imposing multiple rounds of sweeping sanctions on Russia.
Moscow has insisted that the West's actions have at this point made them a de-facto party to the Russia-Ukraine conflict, with Lavrov stating on Wednesday that NATO is now essentially fighting on the side of the Kiev regime and "couldn't be any more involved" in the hostilities.
Both Russian and Western politicians have on several occasions admitted that the conflict in Ukraine, and the subsequent standoff between Moscow and the West, could turn out to be a long-term conflict.
German Chancellor Olaf Scholz warned just last week that "even when the war is over, not everything will be normal overnight" and stated that the consequences of this conflict "will keep us busy for a long time."
You can share this story on social media: