Pope ready to 'mediate' in Ukraine's church crackdown
The offer comes as Kiev moves to expel the Ukrainian Orthodox Church from a historic monastery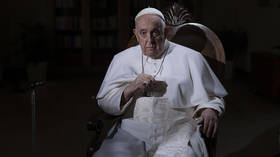 Pope Francis is willing to serve as a conduit for talks between the Ukrainian Orthodox Church (UOC) and the Orthodox Church of Ukraine (OCU) in the dispute over the Kiev Pechersk Lavra, a personal friend told Russian media on Tuesday.
"He said he is ready to mediate," Leonid Sevastyanov, the head of the World Union of Old Believers, told TASS. The pontiff said he could help the UOC and OCU establish contact and maybe aid the UOC in defending its position, Sevastyanov added.
"In the case of the Lavra, he has called for respecting the sanctity of the place and stopping the current actions, but he has no legal mechanism to intervene," Sevastyanov explained. "He can only call for peace, dialogue and negotiations."
Sevastyanov is a personal friend of the pontiff and corresponds with him regularly. The private message follows the pontiff's public expression of concern over the Orthodox monks at the Lavra. On March 15, he asked the Kiev government to "respect religious places."
Earlier this month, the Ukrainian government ordered the UOC to vacate the 11th-century monastery by March 29, claiming the church was violating the 2013 deal to administer the property, which is designated a national culture preserve. No specific violations were cited.
President Vladimir Zelensky has endorsed the eviction, saying it would strengthen Ukraine's "spiritual independence." His government has accused the UOC of being pro-Russian, without evidence or due process.
After the UN Office of the High Commissioner for Human Rights (OHCHR) expressed concern over the crackdown, the Ukrainian Foreign Ministry told it to "refrain from unbalanced political assessments."
Ukraine respects freedom of religion, but that "does not equate to a right for activities that undermine national security," ministry spokesman Oleg Nikolenko said.
UOC hierarchs attempted to meet with Zelensky on March 20, but he turned them away. The Lavra was surrounded by police on March 23.
Culture Minister Aleksandr Tkachenko has said that UOC monks can stay, but they would need to join the OCU, a rival church set up by the state in 2015. The UOC is in communion with the Russian Orthodox Church, while the OCU was recognized by the pro-Western Patriarch of Constantinople. The government previously evicted the UOC from two cathedrals adjacent to the Lavra and handed them over for use to the OCU.
You can share this story on social media: