Pope Francis weighs in on religious crackdown in Ukraine
The pontiff called for holy sites to be respected after canonical Orthodox Church monks were ordered to leave their Kiev monastery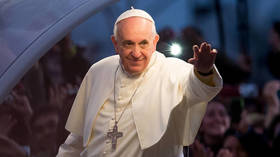 Pope Francis has voiced concern over the situation in the Kiev Pechersk Lavra following attempts by the Ukrainian authorities to expel monks from the iconic Orthodox Christian site.
Speaking at the end of a general audience on Wednesday, the pontiff said he was "thinking about the Orthodox monks in the Kiev Lavra."
"I ask warring parties to respect religious places," he added, asserting that the clergy of any denomination "are the support of the people of God."
His comments came after Patriarch Kirill, the head of the Russian Orthodox Church, last week issued an appeal to Christian leaders of various denominations and international organizations over what he described as "a sharp increase in state pressure on Orthodox Christians in Ukraine."
Referring to Kiev Pechersk Lavra, Kirill called for "every possible effort to prevent the forced closure of the monastery, which would lead to a violation of the rights of millions" of faithful.
On March 10, Ukraine's Ministry of Culture claimed, without providing any evidence, that the Ukrainian Orthodox Church of the Moscow Patriarchate had violated a 2013 agreement, under which the state allowed them to administer the religious site. Clerics were subsequently ordered to vacate the monastery by March 29.
While the clergy have refused to comply, Ukrainian President Vladimir Zelensky endorsed the decision, framing the crackdown as "a move to strengthen our spiritual independence." This, however, prompted outrage from Moscow, with Russian Foreign Ministry spokeswoman Maria Zakharova claiming that "freedom of religion is being held hostage by the bandits" from the Ukrainian government.
For years, Ukraine has experienced religious tensions, predominantly between Kiev-backed non-canonical Orthodox Church of Ukraine (OCU) and the Ukrainian Orthodox Church (UOC), which proclaimed independence from Moscow after Russia launched its military operation in the neighboring country in February 2022.
This, however, did not spare it from accusations that it covertly supports Russia, and raids have been carried out on numerous Orthodox monasteries across Ukraine, including the Lavra itself.
You can share this story on social media: