Bloc's members must arm Ukraine for long term – NATO
The conflict with Russia is attritional, so members should boost defense spending, Jens Stoltenberg has warned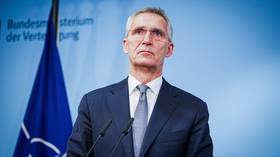 Ukraine's foreign backers should be prepared to maintain their military support for a long time, NATO Secretary General Jens Stoltenberg has said.
"The need [for weapons] will continue to be there, because this is a war of attrition; this is about industrial capacity to sustain the support," the official told the Guardian newspaper on Wednesday.
He noted that Ukraine's expenditure of munitions in the conflict with Russia has outpaced the production capacity of the nations arming Kiev. The NATO chief urged members of the US-led bloc to beef up their military spending to at least the target level of 2% GDP, to sustain the war effort.
Moscow, Stoltenberg claimed, is also running low on weapons, despite boosting its manufacturing, and is seeking arms from other nations, including Iran and North Korea. Such claims have repeatedly been made by Western officials, also with reference to China, but Russia and those countries have all denied any such supplies.
Stoltenberg also criticized Beijing's attempt to mediate in the conflict and broker a peace agreement. Beijing, he insisted, needs to "understand Ukraine's perspectives" and "engage with President [Vladimir] Zelenskiy directly."
China-Ukraine relations reportedly suffered a serious blow after the Zelensky government blocked the purchase of Ukrainian aerospace giant Motor Sich by a Chinese firm. The deal was effectively stopped in January 2021, when Kiev imposed sanctions on the Chinese businessmen behind them, prohibiting the transfer of assets.
Earlier this week, German Chancellor Olaf Scholz issued a similar warning on the Russia-Ukraine conflict, saying Western powers should "prepare ourselves that it can last a long time."
Former Russian President Dmitry Medvedev has also said he expects a drawn-out conflict. Discussing the confrontation between Western nations and Russia, he said that "years, even decades to come will not be calm".
But unlike Stoltenberg, Medvedev blamed Western nations for the hostilities. The "Anglosaxon world" cannot tolerate a sovereign Russia whose policies it can no longer influence in the way it did in the 1990s, he stated in an interview released on Wednesday. He claimed the Western goal is to split Russia into smaller pieces, which could then be demilitarized and exploited.
"Some of those pieces could even join NATO, especially if they agree to share in our natural wealth," Medvedev added.
You can share this story on social media: