Left-wing party calls for restoration of death penalty in Russia
The chairman of the A Just Russia – For Truth party, Sergey Mironov, has called for the execution of terrorists and pedophiles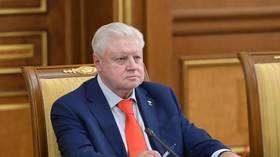 The leader of the left-wing A Just Russia – For Truth party, Sergey Mironov, has announced he will push for the reintroduction of the death penalty in cases of terrorism and sexual abuse of children.
In an interview with RIA Novosti on Monday, the politician stated that his party is proposing that terrorists and their accomplices, as well as murderers of children, and "those pedophiles who rape and kill children," be sentenced to capital punishment and face a firing squad.
Mironov acknowledged, however, that he understands the "imperfections" of Russia's judicial system, which is why his party is proposing a multi-step approach to carrying out such sentences.
Under his party's proposal, a death sentence for someone accused of terrorism, aiding terrorists, or murdering children must first be decided upon by a jury. After that a court must approve the punishment. However, it would not be carried out for at least a year until the decision is separately confirmed by the Supreme Court, which is composed of three judges, as well as a new jury. Only after all of these conditions have been fulfilled will the death sentence be carried out.
Mironov noted that "nothing prevents us from doing this," and pointed out that the death penalty is still included in some articles of the Criminal Code. However, capital punishment has not been used in Russia since 1996. In 1998, then-President Boris Yeltsin established a moratorium on the practice, and Russia's Constitutional Court has since introduced other provisions that make it legally impossible to apply the penalty in criminal cases.
Additionally, the politician claimed that opinion polls show that nearly 70% percent of Russians would support introducing such a punishment for crimes that involve the death of children. He did not specify which polls he was referring to.
While virtually all European states have completely abolished capital punishment in the 21st century, Russia and Belarus remain the only two countries on the continent who still have legal provisions for the practice. Whereas Russia has not executed anyone in almost 30 years, Belarus administered capital punishment as recently as 2021. Executions, which are reserved for particularly grave crimes, are carried out by firing squad. Minsk has also recently proposed extending the penalty to officials found guilty of treason.
You can share this story on social media: