Russia's key ally moves to extend death penalty
Belarusian MPs have approved the punishment for officials found guilty of treason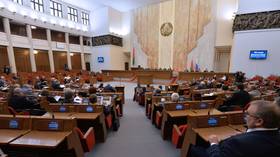 Belarusian officials who commit high treason may soon face the death penalty, according to new legislation approved by the nation's lower house of parliament on Tuesday.

In a statement, the press service of the Belarusian House of Representatives said the bill would allow "the possibility of applying an exceptional measure of punishment in the form of the death penalty" to public officials and those with the status of military personnel if they commit treason against the state.

The legislation seeks "to exert a deterrent effect on destructive elements, as well as demonstrating a resolute [intention] to combat" this type of crime. It will not enter into force until it is approved by the Council of the Republic, the parliament's upper chamber, and signed by President Alexander Lukashenko.

The bill aims to increase the time of detention for those suspected of espionage, treason, and a number of other anti-state crimes from 72 hours to up to ten days. The press service explained that the current amount of time is often not enough to carry out the required investigative measures.

Belarus remains the only country in Europe that still has the death penalty. The punishment, which is carried out by shooting, is reserved for those who commit particularly grave crimes. No crime, however, requires execution, which has become increasingly rare in the past decade.
You can share this story on social media: