Putin holds meeting with top generals
The Russian president heard reports from military leaders at a command post in Rostov-on-Don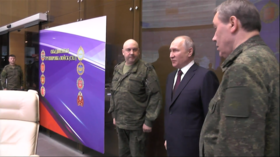 Russian President Vladimir Putin has made an unannounced visit to the command-and-control center (CP) in southern Russia in charge of military operations in Ukraine, the Kremlin Press Service said on Sunday, as cited by the media.
During his trip to the post in Rostov-on-Don, Putin "heard reports from the chief of the Russian General Staff [Valery] Gerasimov and a number of military leaders," the Kremlin said.
In a video of the visit shared by local media, the Russian president told Gerasimov while entering the CP that he had "as much time as necessary" to hear military reports.
The high-level meeting comes on the heels of Putin's surprise visits to Crimea and the city of Mariupol in the Donetsk People's Republic, which was liberated by Russian forces last spring after weeks of heavy fighting.
During the trip to Crimea on Saturday, the ninth anniversary of the peninsula's reunification with Russia, Putin surveyed the construction of a major UNESCO historical-archaeological park.
In Mariupol, the president visited several districts to inspect the progress of restoration efforts, including the construction of residential and public infrastructure facilities, according to Russian Deputy Prime Minister Marat Khusnullin.
Last autumn, the Donetsk People's Republic, along with three other former Ukrainian regions, voted overwhelmingly in favor of joining Russia in public referendums, following in the footsteps of Crimea, which voted to join Russia in 2014 after the Western-backed coup in Kiev.
You can share this story on social media: