Ukraine holding Religious freedom hostage – Moscow
Kiev is applying "criminal logic" by evicting canonical Orthodox Church monks, Russia's Foreign Ministry claims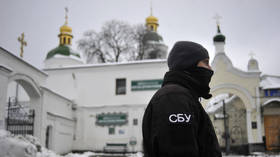 Religious freedom is being held hostage by the Ukrainian authorities, Russia's Foreign Ministry insisted on Wednesday.
Spokeswoman Maria Zakharova was commenting on attempts to evict monks of the canonical Ukrainian Orthodox Church of the Moscow Patriarchate (UOC) from the Kiev Pechersk Lavra monastery, which is considered the most important Orthodox Christian site in the country.
When asked the previous day about the planned eviction, Ukrainian Minister of Culture Aleksandr Tkachenko said senior clergy and church administrators should be the first to leave, as they had carried out "illegal construction" at the Lavra. "We'll be able to talk about the rest after that," he added.
The UOC monks at the Lavra, who are refusing to vacate the monastery and describe the eviction order as illegal, "always have a choice," Tkachenko continued. Their stance may "change drastically" once the leadership of the Moscow-linked church is out of the monastery, he suggested.
Zakharova took to Telegram, claiming that the Ukrainian minister was basically saying the monks could only remain at the Lavra "if they switch to the side of the schismatics." She was referring to the non-canonical Orthodox Church of Ukraine (OCU), which was created by the Kiev government after the 2014 coup in the country.
By making such statements, the Kiev authorities were openly admitting the "criminal logic" behind their actions, she wrote.
"The freedom of religion is being held hostage by the bandits on Bankovaya Street," Zakharova said, referring to the location of the Ukrainian president's office.
On Friday, the government of Vladimir Zelensky, which supports the OCU, notified monks at the Lavra that they had until March 29 to vacate the monastery, claiming that the clerics had violated the 2013 agreement, under which the state allowed them to administer the national heritage site.
Zelensky said the move was aimed at protecting Ukraine's "spiritual independence," insisting that Kiev would not allow Moscow "to manipulate the spirituality of our people."
The head of the Russian Orthodox Church Patriarch Kirill had earlier protested against the eviction plans. These would "lead to a violation of the rights of millions of Ukrainian Orthodox faithful," he wrote in a letter addressed to the UN and religious leaders worldwide, including Pope Francis.
You can share this story on social media: