Armenia fears withdrawal of Russian-led alliance – PM
Questions about Yerevan's exit from the Collective Security Treaty Organization (CSTO) are inappropriate, Nikol Pashinyan said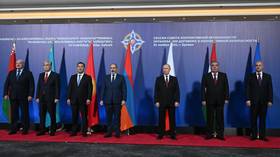 Armenia does not want to leave the six-nation Collective Security Treaty Organization (CSTO), Armenian Prime Minister Nikol Pashinyan has stressed.
"It is not that Armenia is leaving the CSTO, the CSTO is leaving Armenia, which is of a great concern to us," Pashinyan said at a press conference on Tuesday.
Armenia, which is locked in a territorial dispute with Azerbaijan over the Nagorno-Karabakh region, has been reducing its involvement with the CSTO, which incorporates Russia and former Soviet Republics Belarus, Kazakhstan, Kyrgyzstan and Tajikistan.
In January, Pashinyan warned that he might ask the United Nations to deploy peacekeepers to Nagorno-Karabakh to protect its ethnic-Armenian population after the five-year mandate of Russia's peacekeeping contingent there runs out in 2025.
Earlier this year, Yerevan also announced that CSTO drills would not be held on Armenia's territory in 2023, while also refusing to assign an Armenian representative to the position of the bloc's Deputy Secretary General.
During his press conference on Tuesday the premier was asked if those decisions mean that Armenia is on course to part ways with the CSTO, a suggestion he denied.
Such concerns are "out of place" but Yerevan has other concerns about the security bloc, he said.
"My assessment now is that the CSTO is, willingly or unwillingly, leaving Armenia. And this worries us," Pashinyan added.
Pashinyan said he had spoken to Russian President Vladimir Putin about a "possible escalation" in Nagorno-Karabakh and that he'd told him that "there are problems in the zone where Russian peacekeepers are responsible."
Armenia "would be happy to assume the position of CSTO Deputy Secretary General if we wouldn't be sending the wrong message to our people by doing so," he pointed out.
Filling the post of Deputy Secretary General must provide "an additional factor for the security of Armenia," he explained, implying that this is not the case at the moment.
Armenia and Azerbaijan have been at odds for decades over Nagorno-Karabakh, a part of Azerbaijan with a predominantly ethnic Armenian population, which declared independence from Baku in the early 1990s.
In 2020, the two former Soviet republics fought a 44-day war for control over the area, which ended in a Moscow-brokered truce and the deployment of Russian peacekeepers in the region. However, sporadic border clashes between Armenian and Azerbaijani forces continue in Nagorno-Karabakh, leading to fatalities on both sides.
You can share this story on social media: