EU mission to Armenia aims to push Russia out – Moscow
Diplomats believe the bloc is attempting a geopolitical project targeting a close "ally"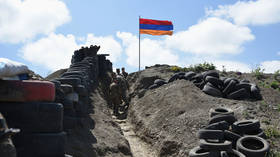 A newly announced EU mission in Armenia supposedly aiming to "contribute to stability in the border areas" is nothing but a geopolitical project serving the West's interests, the Russian Foreign Ministry said in a statement on Monday. The mission will not improve the security situation in the region, it added.
"It is not the first time that we see the desire of the EU and the West... to gain a foothold in Armenia... at all costs," the ministry said, calling Yerevan Moscow's "ally." Russia considers these moves to be geopolitical actions that have nothing to do with the peace process in the region.
The West "does everything to push Russia out of the region and weaken its historical role as a major security guarantor," the statement added. The ministry also cast doubt on the EU mission's ability to ensure peace and stability in the South Caucasus, pointing to the fact that a similar EU mission in Serbia's breakaway region of Kosovo failed to prevent a major flareup of tensions between Belgrade and Pristina last year.
Brussels also ignored Baku's criticism of the initiative. Last week, the head of the Azerbaijani parliament, Sakhiba Gafarova, warned that the mission could "impede the process of normalization" of relations between Yerevan and Baku.
The EU announced on Sunday that it would send what it calls a "civilian mission" to Armenia's border with Azerbaijan to "contribute to stability in the border areas of Armenia, build confidence and human security in conflict-affected areas," and support the process of normalizing relations between the two neighbors.
The mission will involve around 100 civilian staff members, including 50 "unarmed observers," the EU said. According to Brussels, the mission, which was first announced by the bloc's top diplomat, Josep Borrell, in January, was established at Yerevan's request.
Moscow insists that only the trilateral agreements reached by Russia, Armenia, and Azerbaijan can serve as a basis for normalizing the situation in the region. The agreements include the delimitation of the two neighbors' borders, the opening of transportation routes, and the establishment of contacts between civilian groups, lawmakers, and religious leaders from the two countries. Russia stands ready to contribute to this process, the ministry added.
Armenia and Azerbaijan have a decades-old dispute over the region of Nagorno-Karabakh, a part of Azerbaijan with a predominantly ethnic Armenian population, which declared independence from Baku. In 2020, the two nations fought a 44-day war, which ended in a Russian-brokered truce.
In September 2022, tensions on the border between the two neighbors flared up again, leading to a series of border skirmishes that reportedly claimed the lives of dozens of soldiers on both sides.
You can share this story on social media: