No grounds for new Ukraine peace plan – Kremlin
In the absence of conditions for peace, military action is required to achieve Russian goals, Putin's spokesman has said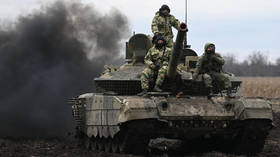 There are currently no conditions for a peace settlement in Ukraine, meaning Russia has no other option but to keep fighting, Kremlin spokesman Dmitry Peskov has argued.
"The absolute priority for us remains and will always remain reaching the goals that we've set for ourselves. At this point in time, they can only be achieved through military means," the official told journalists on Monday.
Peskov was reacting to an article penned by veteran German diplomat Wolfgang Ischinger, who served as chair of the Munich Security Conference for over a decade. In a piece published by Der Tagesspiegel on Sunday, Ischinger urged Western leaders to "start thinking about a peace process now" and create a special political contact group for the Ukraine conflict.
"In addition to arms deliveries and financial support, we have to offer perspectives to the growing chorus of questions by critics," he argued.
According to Ischinger's proposal, the contact group would be led by the US, UK, Germany and France, with other nations and international organizations, including NATO, forming an "outer circle" of participants to lend legitimacy to any draft documents.
The group's task would be to prepare a ceasefire agreement and other paperwork to form the backbone for a post-conflict period. It would work alongside the so-called Ramstein Group, which funnels Western military aid to Ukraine. Ischinger stressed that the new initiative would not put pressure on Ukraine to negotiate.
The veteran German diplomat suggested a list of questions that the group would ask themselves, including: "Should a ceasefire agreement be endorsed by the UN Security Council?", "Will there be a demilitarized buffer zone?", and "Should the people in Crimea hold a referendum to decide who they belong to?".
Kiev has declared the full return of territories it claims as Ukrainian as a precondition for peace talks. Its national security council has also banned talks with Russia for as long as President Vladimir Putin remains in office.
Moscow has argued that the Ukrainian government has effectively made peace talks impossible, and that Kiev has adopted its stance based on orders from the US, which is aiming to inflict a strategic defeat on Russia.
You can share this story on social media: