German diplomatic giant suggests way to resolve Ukrainian conflict
The influential Wolfgang Ischinger has proposed a method to thrash out a peace initiative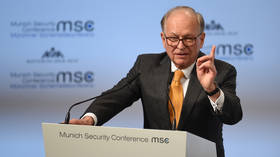 Former German Deputy Foreign Minister Wolfgang Ischinger has argued that an international contact group should be set up to resolve the Ukraine crisis, with the US, UK, France and Germany making up its core.
The veteran diplomat, who also chaired the Munich Security Conference from 2008 to 2022, wrote that now is the time for a serious conversation about ways to secure peace, in an op-ed for Germany's Der Tagesspiegel newspaper published on Sunday.
The 76-year-old Ischinger is a heavy hitter in Berlin and served as ambassador to the US and UK, as well as holding a variety of other prestigious posts.
He insisted that "it is high time that we put in motion a peace process for Ukraine," while acknowledging that critical voices in the West have raised issues that are not "completely unjustified." That includes questions on how much longer governments are planning to pump Ukraine with weapons, Ischinger said.
With this in mind, the veteran German diplomat called for the "immediate" creation of a special contact group that would function alongside the existing Ramstein Air Base group, which helps coordinate defense aid to Ukraine.
Such a congregation of world powers, according to Ischinger, should be given a mandate to thrash out multiple settlement scenarios and options, as well as to prepare draft agreements so that, if and when Kiev and Moscow decide to sit down at the negotiating table, there is already some groundwork in place for a peace process.
In addition to the four mentioned Western powers, the contact group envisaged by the German politician would also involve nations like Canada, Spain, Poland, Italy, the Baltic states, as well as the UN, EU, OSCE and NATO. To make it more representative, invitations should also be extended to the likes of Brazil, India and China, Ischinger added.
He said the key issues on the group's agenda would include the terms of a ceasefire, the issues of sovereignty over Crimea and parts of Donbass, security guarantees for Ukraine, and its possible NATO membership.
Officials in Moscow have on several occasions made it clear that they are open to negotiations with Kiev in principle, provided that Ukraine accepts Russia's conditions and recognizes what the Kremlin calls the "reality on the ground."
Addressing Russia's Federal Assembly late last month, President Vladimir Putin claimed that it was Ukraine and its Western backers who had "started the war." Moscow, according to Putin, "has been using force to stop them."
In January, Russian Foreign Minister Sergey Lavrov signaled that Moscow was "ready to respond to all serious proposals" to resolve the conflict. He claimed, however, that the West does not allow Kiev to make decisions on its own.
You can share this story on social media: