Moscow admits it 'doesn't know' who attacked Nord Stream
A full investigation, not ludicrous leaks to the press, is needed in the high-profile case, top official insists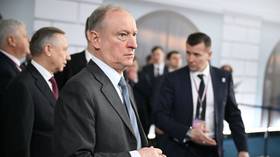 Russia does not know who blew up the Nord Stream natural gas pipelines last year, and wants to see a thorough investigation to get the answer, its most senior security official has said.
In an interview with the Russian newspaper Argumenti i Fakti, published on Monday, Nikolay Patrushev, secretary of Russia's Security Council, also dismissed a claim that Western intelligence services suspect a private "pro-Ukrainian group" of blowing up the pipelines as being meant for people lacking in critical thinking skills.
"The narrative that the US and the UK were not involved in this terrorist attack is apparently pushed in the hope that the readers cannot think logically," he said.
Patrushev was referring to a series of articles in the Western press, claiming that the undersea energy links, built to directly supply Russian natural gas to Western Europe, may have been sabotaged by a shady group possibly funded by a Ukrainian businessman. Unnamed intelligence officials claimed that the people behind the operation were not linked to either the US or Ukrainian governments. The pipelines were ruptured by powerful explosions in late September.
Patrushev expressed doubt that the group described by the media could even exist, explaining that such acts require special equipment and training, which might be expected from a national black ops team.
"The US and Britain have such units. Other NATO states use combat divers for sabotage operations too, but only if the leading member of the alliance, which dictates its agenda, gives its permission and support," Patrushev stated.
Only a thorough impartial investigation based on evidence can put an end to the controversy, he added, arguing that "declarations of subjective one-sided versions explain nothing."
Weeks before the claim was floated, based on anonymous intelligence services, veteran investigative reporter Seymour Hersh alleged that the Nord Stream sabotage was conducted by a US-Norwegian team on the orders of US President Joe Biden. Both nations have denied the allegations.
Hersh said Washington wanted to lock in German support for its anti-Russian campaign over the Ukraine crisis, and put an end to the purchase of cheap Russian pipeline gas by Western European nations.
Patrushev assessed that no pro-Ukraine actor had any reason to blow up the pipelines, as Kiev "goes hat in hand to Berlin hoping for increased military assistance and other aid." Washington, however, has long expressed opposition to Russian-German energy cooperation, the official noted.
You can share this story on social media: