Rockets shot down over Russian city – governor
Four projectiles were intercepted over Belgorod Region and one woman on the ground was injured, Vyacheslav Gladkov reported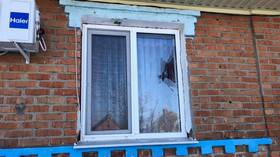 Russian air-defense forces have repelled a rocket attack over Belgorod Region, Governor Vyacheslav Gladkov told the media on Monday. Four projectiles were shot down over the provincial capital and the surrounding area, he claimed. The city is located some 35km from the Ukrainian border.
Local officials have yet to fully assess the incident that occurred on Monday morning, the governor explained. According to preliminary reports, some debris fell on private homes near Belgorod, causing damage and injuring a woman. An ambulance rushed her to hospital with concussion, which was thought to be moderate in severity, the governor added.
Ukrainian troops regularly launch attacks on targets in the region. In a similar incident last Monday, three missiles were fired at the town of Novy Oskol, which is located some 50km from the border. These were also shot down by Russian defenses, Gladkov reported at the time.
In late February, debris from three unmanned aircraft was found in Belgorod. The aircraft had reportedly been rigged with British-made explosives and were launched by Ukrainians as "kamikaze drones" against the city's energy infrastructure.
Regional authorities declared a state of emergency in the border area, which is within range of Ukrainian artillery, and evacuated some 250 families from settlements most vulnerable to attacks.
You can share this story on social media: